4 WAYS TO STYLE: VINTAGE LEATHER JACKET 📜
Yes, so exciting! Our first lookbook article. We will be writing short and fun articles for you to get some styling inspiration, or we'll tell you about things like our favorite (old) music and books. Maybe even give you guys a little behind the scenes or a look inside another interesting workday.
Ok, getting right to it. We love leather jackets, especially vintage (could you have guessed? haha :). In this article, we're going to show you the 'Vrijbuiter way' of styling your leather jacket. We think vintage just gives an extra feel to your look without you even trying.
EXPERIMENTAL LOOK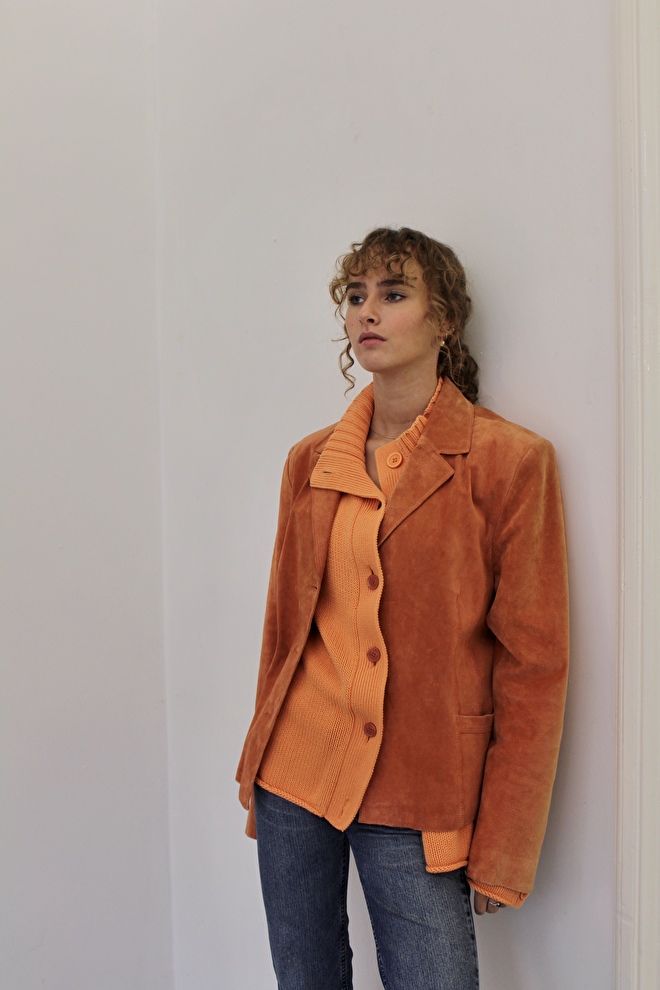 🍊 This is an experimental way to style your leather jacket and it's actually very easy. Note: this only works with a buttoned leather jacket. You choose a vest and put over your leather jacket of choice. You button the vest within the holes of the leather jacket which gets you a cool layering effect. The photo explains it right away :)
Arma peach-colored leather blazer €89
LOOK FOR THOSE HOT DAYS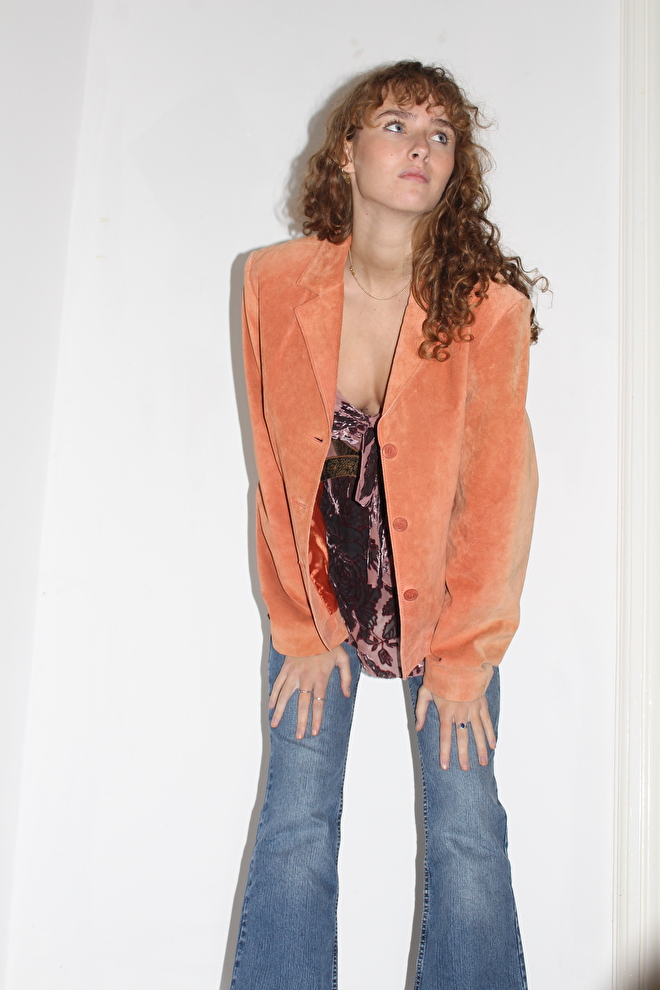 ☁️ If you love wearing leather jackets, you'll want to wear them on warmer days too. The 'key ingredient' with this look is a light/see-through top. Wear your favorite leather jacket over it and you got yourself an easy-breezy look. If you end up getting too hot just wear the jacket over your shoulders until it starts getting chilly. To make it more 'hot day proof', wear shorts or linen pants. You can never go wrong with linen!
Black see-through top with poppies €34
PRINTED LOOK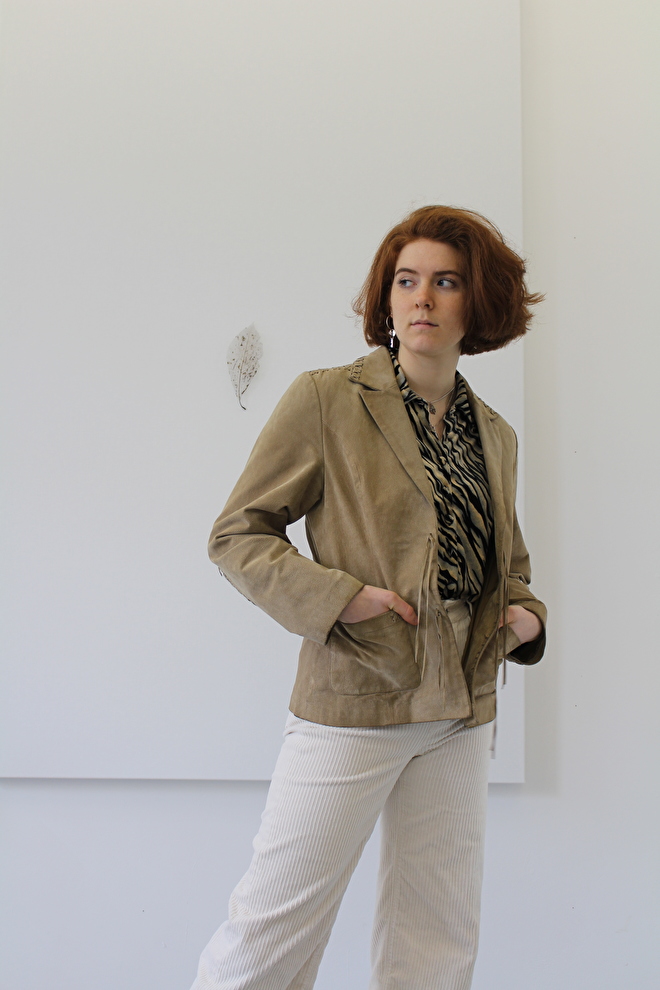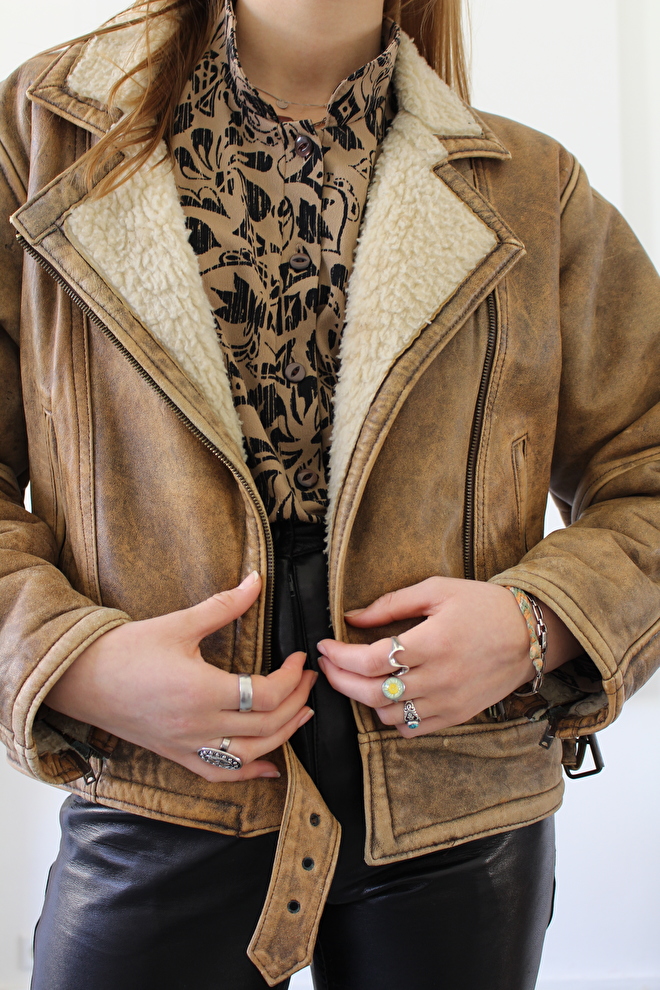 🐾 Something else we love, combining leather with prints. Don't be stopped by some bright colors and just go with the flow and see what looks good on you. If you want to go for a more relaxed look you can go for a neutral-colored jacket. Mix and match with your jewelry to spice up the neutral look as we did in the right photo.
Beige western leather jacket €48 // Brown biker lammy jacket €95
Velvet zebra print blouse €29 // Print blouse with pockets €29
SIMPLE BUT CHIC LOOK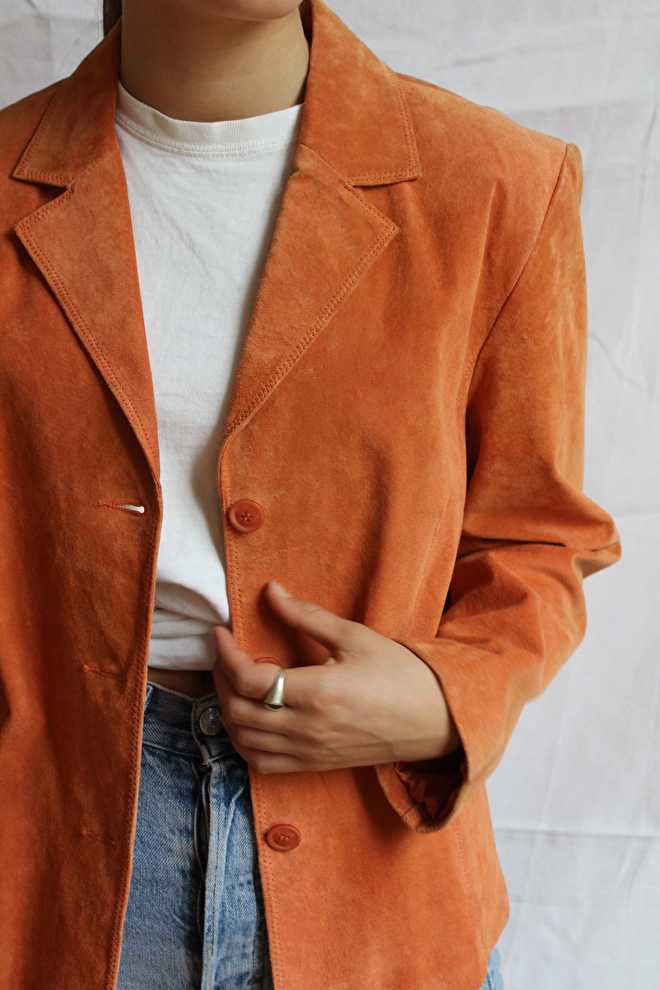 🌾 Although we love extrovert styling most of the time, we do appreciate a well-styled simple look. This one is also very easy and you probably have all of these things already in your closet. So get your white oversized t-shirt on and put over a bright-colored leather jacket. Get your vintage jeans and your black combat boots (a staple in your wardrobe) on, and there you have yourself a cool and stylish look. We are very sure you are going to look so great in this one!
90's Guess straight leg jeans €49
​
All the leather jackets seen in this article are listed above, including some items to add to your look so you can get our styled looks. We're very curious what you think of these kinds of articles, please let us know via a message on social media. We would love to hear what your thoughts are on this. If you have a suggestion, they are always welcome! 💌
With love,